Like Benjamin Ogle, the family details of Elizabeth Fynn are not well documented.
It is most probable that she is a 'mixed marriage' descendant of Francis (Frank) Fynn, a brother of Henry Francis Fynn, who, like Henry Ogle was 'Chief' of three African homesteads in Port Natal, filled with Africans, many of them young women fleeing Shaka and later Dingane. With the absence of any European women in Port Natal at that time, and for some years to come, Ogle and the Fynns, along with many others, took several of these African women and established them in huts of their own, as their "wives" (concubines).

And they were wives in every sense, in many instances the African custom of 'lobola' was paid, and the partners were together for the rest of their lives. From the photographs we have, showing how well dressed and cared for she was, and in very comfortable surroundings, it is certain that she was of some standing in the community - not just another 'coloured' child.

With Henry Francis Fynn and his brother Frank being business partners and close friends of Henry Ogle, it is not surprising that their children married into each others family.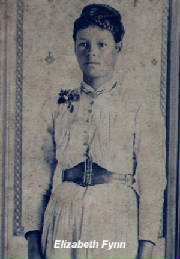 Elizabeth Fynn as a young woman
As mentioned previously, we know of six children from her marriage to Benjamin Ogle, one of whom was Adeline Patricia Ogle.

Adeline Patricia Ogle was born on the 9th April 1889, and married Benjamin Green on the 24th August 1909 at a chapel near High Flats, Ixopo, Natal. They had nine children, one of whom was Herbert Cecil Green. He in turn married Maggy Lily Rorke, and Herbert and Maggie were Daphne's parents.The link between the Rorkes, Fynns, Green and Ogle families - all pioneers in their own right in Natal, had been established with this last marriage.

Adeline Green (nee Ogle) and her husband, Benjamin Green, are both buried in the same family grave

plot as Adeline`s parents, at Rockside Farm, Ixopo.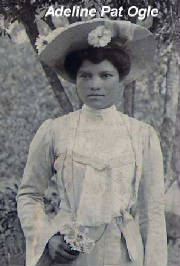 Adeline Patricia Ogle