The Irish Link (continued)
During the three days we spent in Ballinasloe we spoke to many local people, and went to the local library to look for anything we could find about Clontuskert during the end of the 18th century.
We found that like England at that time, the majority of farms in Ireland were very small, around three or four hectares, and were farmed by tenant farmers, who rented them from the major landowner.
In England, the farms in the Teme valley were owned by the Earl of Dudley, and in the Ballinasloe area the major landowner was the Earl of Clancarty. (Irish name - Gortnahorna)
So James Rorke of 1760 to 1832 was a tenant farmer to the Earl of Clancarty, and this would explain why most of James's sons emigrated when they did. The family did not own the farm - and small as it was it could barely support one family - so there was nothing to keep them in Clontuskert, or even Ireland for that matter, as farming was a very hard life at the best of times, and for tenant farmers in poor growing seasons it was doubly so.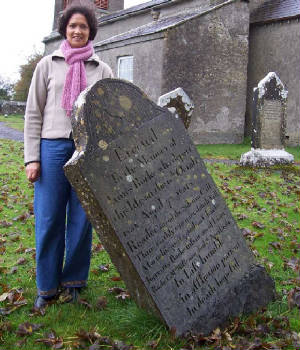 Gravestone of James Rorke, 1760 - 1832, after cleaning on 18th October 2006.

There are some people who say that when a gravestone leans or topples over it is because those buried there have been forgotten.
This stone will not lean any further - James Rorke will no longer be forgotten.