The Irish Link

We flew to Cork in Southern Ireland on October 15th to find and visit the grave of Daphne's 4G Grandfather, who had farmed in Clontuskert in the late 18th century. From Cork we drove north, through the beautiful , lush, Irish countryside to Ballinasloe in County Galway, some 140 kilometers away.
The Gaelic name for this small market town is " BEAL ATHAnaSLUAIGHE", and means something like "the mouth of the river ford for everyone".
Clontuskert, the small farming village we were looking for was about three miles to the south west.
We found Clontuskert, a gathering of small farms with a church somewhere in the middle, but this was not the St. Matthews church we were looking for.
We were directed by one of the friendly local people to the village of Glan - short for Glenloughaun (now shortened to Glanlahan) - about two kilometers away down narrow twisting farm roads, and there was our goal.
St Matthews church, we found, was a Protestant church amongst a predominantly Catholic country, and meant that the Rorke family, and others with them, were buried there because of their faith, not because they lived in Glanlahan. So, we now knew that Daphne's ancestors from Ireland were protestants.
The church is not often used today, and most of the grave stones were illegible, covered with years of dirt, moss, and bird droppings.
Having found the grave stone we were looking for we decided that we had to clean it - we could not leave it in the condition it was in. So, the following day we took water and small scrubbing brushes and cleaned the two Rorke headstones. One belonging to James Rorke, and the other we think to his daughter in law, Jane, wife of son John, together with her son James. Having cleaned the stones, the dates were now very clear, and it appears that 4G Grandfather James died on the 18 October 1832, aged 72, making his birth to be in 1760.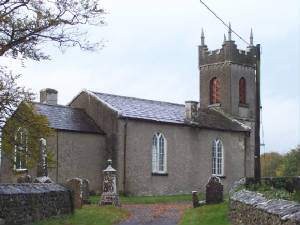 St. Matthews Church, Glanlahan.
James Rorke, 1760 - 1832 is buried here.